iCanPlay: Kirsty Hanson Q&A
Kirsty Hanson from Halifax tagged along to Warley Blues Boys with the boys she played football with on her street as a kid and she's never looked back. She now plays in The Barclays FA Women's Super League and is a Scotland International 
Tell us about how and why you got involved in playing football?
When I was younger there was mostly boys on my street where I lived, as well as having an older brother.
I joined in with the boys playing football on my street who played for a local football team called Warley Blues Boys, I tagged along & asked if I could join and they let me.
It was so much fun, and it also toughened me up as well, which is why I'm quite a strong girl now.
There was already a girl on the team luckily, so it made it easier for me to join.
Who have you played football for and who do you play for now?
I've played football for quite a few teams, I obviously started at Warley Blues Boys, before having to join a girls' team.
Here I went to West Riding Centre of Excellence, if I'm honest, I preferred playing with the boys so it was a change I needed to get used to but it was great as I made more friends playing with the girls.
I went through a few centres of excellence then Huddersfield Town, where I scored something like 43 goals in a season, before joining Manchester United's Centre of Excellence.
This was where I realised my goal was to become a professional footballer.
At this time, United only went up to U17's so I joined Liverpool which was enjoyable, I then went on loan to Sheffield FC, as I started playing for Scotland, then Doncaster Belles before making the big move to the first ever Manchester United Women's team.
A dream come true.
What do you enjoy about playing football?
I enjoy the socialising aspect of playing football, you get to play with your friends every single day and the coaching staff are like family too.
You also learn a lot, always becoming a better player than I was yesterday and coming up against the best players in the world is always special.
Who are your role models in football?
I support Manchester United so I always looked up to some of the men's players, such as Rooney who worked so hard to get to where he wanted, which is what I do.
What are your greatest achievements in playing football and why?
My greatest achievements playing football is definitely signing for Manchester United and also getting selected for Scotland Women's team.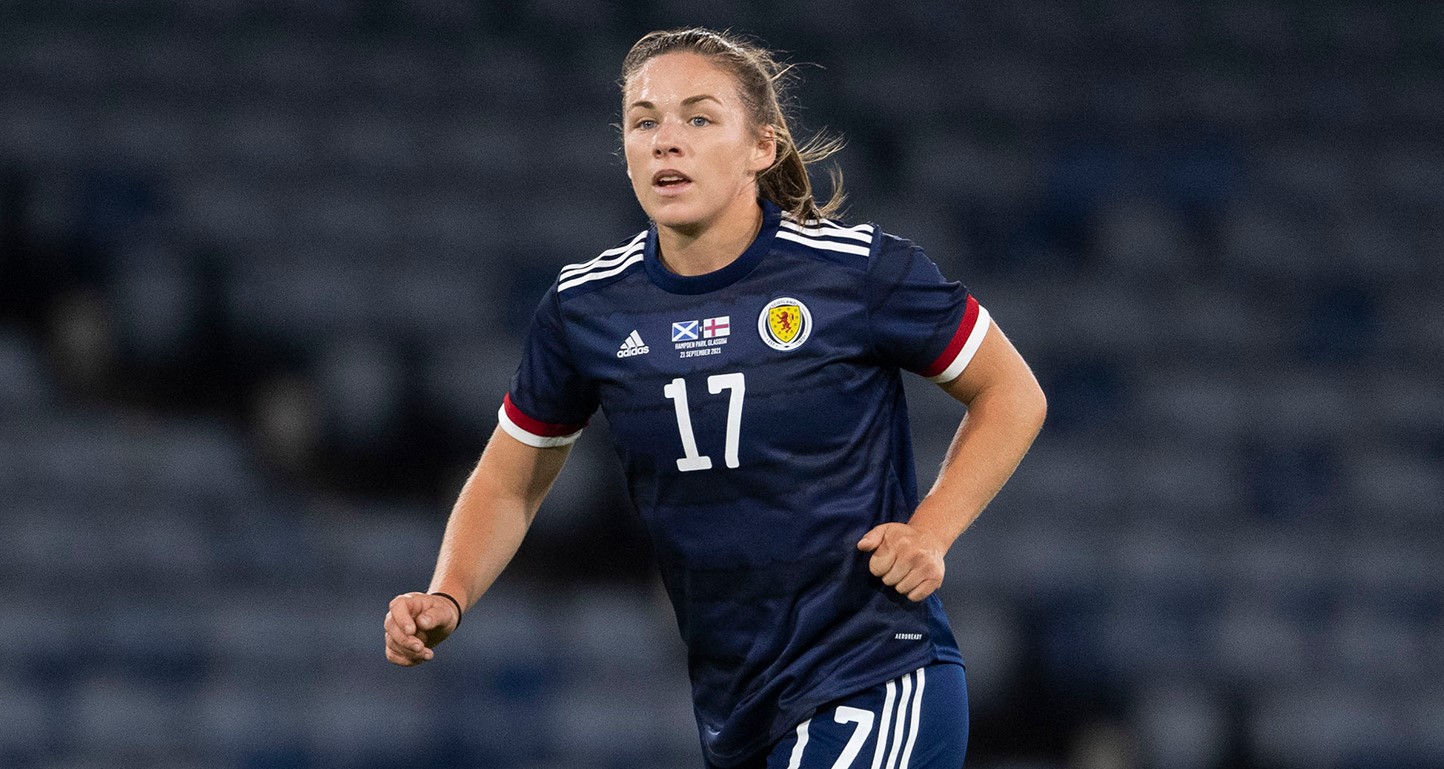 What are your goals for the future?

My goals for the future are to play in the Champions League, win the WSL, and become a consistent performer for my team.



What are the biggest obstacles you have faced in playing football?

My biggest obstacles I have faced in playing football is probably getting inside my head.

I have such a strong mentality, I never give up, always thinking what can I do to be better but I do struggle to believe in myself and I know that when I play with no fear, I am a great player.

However, when I have no confidence in myself you see a shell of the player that I really am.



Who's had the biggest influence on you as a footballer and why?

I'd say my parents have been my biggest influence on me as a footballer.

They work so hard to make sure me & my brother are ok so I've got my 'never give up' attitude from them when I play.

They've drove me all over the country to various teams and camps to make sure I can achieve my dream, without them, I wouldn't have been able to make it to any sessions when I was younger.

My mum also used to be an athlete, so she knows what you have to do to be a professional athlete.



What advice would you give to other young footballers out there who dream of playing Super League Football like you?

My advice is to ignore anyone who says you're not good enough, I get that all the time but it's important to keep working hard and enjoy doing what you love, because eventually the hard work will definitely pay off and it's the best feeling when you're playing at the top level because you've earned it.